Tell us a little about you and your role as a UX designer.
Hello, I'm Clara. 👋🏻 
This summer I graduated from Interaction Design at the Belfast School of Art, and last month I started with the team at Green17 as their UX Designer. UX design allows to me solve problems and create meaningful user experiences, by putting our users' needs at the forefront of our design process - it's a very rewarding role!

What interested you in working at Green17?
The years of experience and the variety of clients that Green17 has is definitely what interested me, and also the atmosphere of the studio when I first visited. I could tell it would be a really warm and supportive environment - and I wasn't wrong!
How have you found your first month here?
I have absolutely loved my first month here - between the variety of different projects I have been involved in, and the experienced team I work with, I have learned a lot!
It's been really rewarding to put my UX skills to good use, and so exciting to see some of our client projects coming together already. I'm looking forward to working with even more clients in the future.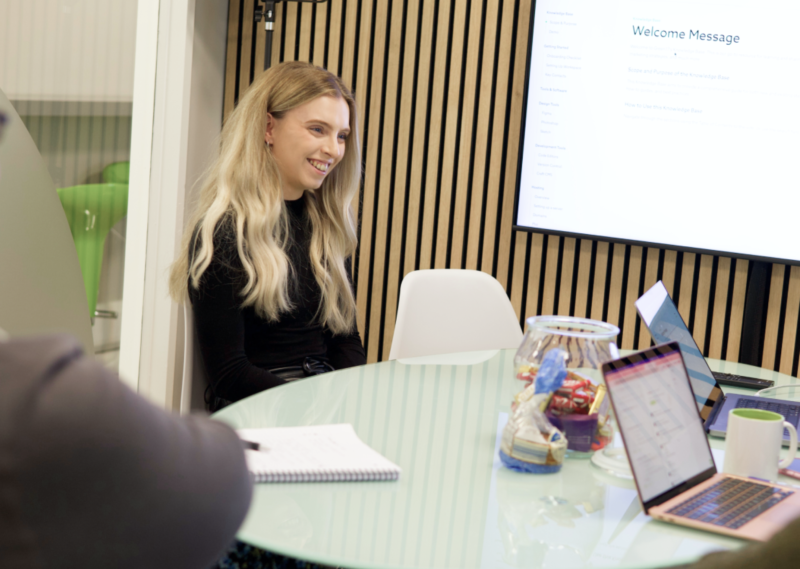 What do you love to do in your spare time?
In my spare time I love a walk in nature, or finding a new food or drink place to try! However, during the winter you'll more likely find me under a blanket watching one of my comfort series.

What aspects of your new role are you looking forward to most?
I'm really looking forward to gaining some experience working with our clients, and putting my skills to practice to help them elevate their online presence. So far I've been able to jump in on a variety of ongoing projects, but I'm excited to begin on some new projects from the starting line, and see the process through from start to finish!
What are your favourite office snacks?
My go to snack is usually something chocolatey, so a brownie from our neighbouring cafe is definitely my ideal office day snack!